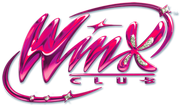 Winx Club 
is an Italian magical girl show. It tells the story of Bloom Peters, a sixteen year old girl from Gardenia, California. After wandering into a mystical battle between a giant ogre and a fairy princess known as Stella, Bloom discovers her own latent magical abilities and heads to the realm of Magix, home of two colleges for magical girls- Alfea, which trains good fairies, and Cloudtower, home of evil witches. Forming a team with her roommates at Alfea, Bloom embarks on a quest to find out where her powers come from.
Why you should watch it
Edit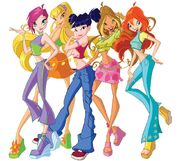 Winx Club, though created to be a combination of Harry Potter and Sailor Moon, has a unique, fun aura that no other magical girl series can touch. It plays just the right combination of humor, optimism, and darkness (with character deaths, sexual references and innuendos, and some very scary villains), and remains appropriate for kids all the same. It is also one of the rare series where the characters age, and there are many interesting situations that come from that.
Winx Club's early episodes can be watched on Youtube
The series has three dubs: 4Kidz (Seasons 1-3), Rainbow (Seasons 1-4, plus both movies), and Nickelodeon (4 specials paraphrasing the first two seasons, Seasons 3-5, and both movies). 
There are two continuities: the television show, and the long-running comic series.